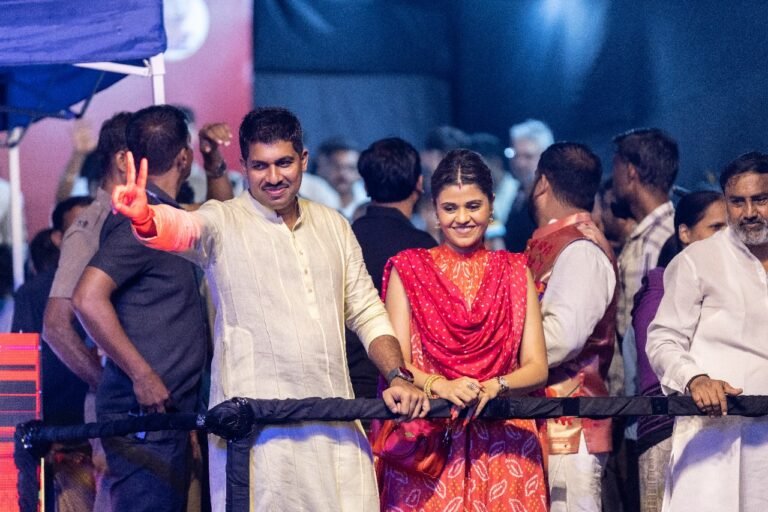 Punit Balan's Dahi Handi Becomes Talk Of The Town: The beloved Indian festival, Dahi Handi, witnessed a splendid transformation in Pune this year, courtesy of Punit Balan's innovative vision. His rendition of the Dahi Handi festivities encapsulated the traditional essence while drawing the attention of Pune's elite. Held at the famed Ganpati Chowk in Pune,
the event transformed the festival into a grand spectacle that will be remembered for a long time. It was graced by well-known personalities like singer Ajay Atul, cricketer Kedar Jadhav, actor Pravin Tarde, Esshanya Maheshwari, and renowned DJs Tapeshwari and Akhil Talreja, who amplified the festivity's charm and excitement.
A connoisseur of grand celebrations, Punit Balan left no stone unturned in ensuring that the Dahi Handi event would be etched in the memories of Pune's denizens. His acute attention to the finer details and dedication to keeping the tradition alive allowed him to seamlessly integrate a contemporary flair into the age-old festival.
The event curated by Punit Balan was a harmonious blend of tradition and modernity. What made the celebration exceptional was Balan's talent in merging the old with the new. While the traditional rituals of Dahi Handi were executed with customary zeal, they were given a modern, innovative spin.
With colorful decor, soulful music, and traditional delicacies, every element of the festival was crafted to captivate and enthral the participants. The event succeeded in fostering communal harmony, uniting individuals from diverse backgrounds to celebrate their common heritage. While integrating contemporary elements, Balan ensured the intrinsic spirit of Dahi Handi remained intact, helping participants reconnect with their cultural foundation.
In conclusion, Punit Balan's Dahi Handi event in Pune stood as a shining beacon of success. It not only paid homage to traditions but also spotlighted Pune's progressive nature, emphasizing its commitment to its cultural lineage. As the event continues to win admiration, it underscores the timeless allure of Indian festivities and the ingenious prowess of organizers like Punit Balan.