PTC Punjabi is back with its next season of highly anticipated singing reality show for budding singing talent of Punjab.
The Voice of Punjab Chhota Champ Season 9 is set to kick off from Monday 22nd May at 8: 30 PM.
MOHALI, 22nd May,2023: PTC Punjabi is set to broadcast from May 22, Monday to Friday 8.30pm "Voice of Punjab Chhota Champ -9". The singing reality show for the children aged between 8 years and 14 years has been a hit in its previous seasons and this season is surely going to be one of the biggest entertainers on TV.
PTC Network has reaffirmed its commitment towards its viewers and talented children by giving them a platform to showcase their talent. In the past the show has managed to bring endless emotions and experiences to audience to get hooked to.
Popular and respected Punjabi singers and doyens such as Music Director Sachin Ahuja, singer and actor Amar Noori, Singer InderJit Nikku and Singer Kaptan Laddi are this year's main judges who will be joined by contemporary Punjabi singers to mentor the kids and entertain the audiences.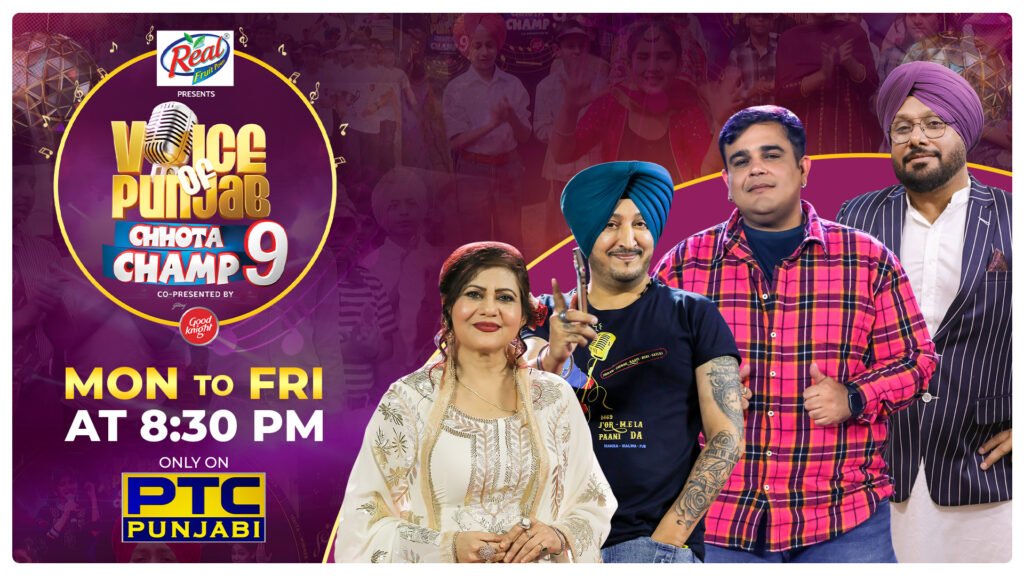 Talking about the upcoming show, M.D & President, PTC Network Mr Rabindra Narayan, said,
"These young stars who are today looking for the door to enter the studio, will have the doors being held open for them one day. By the time these contestants reach the Grand Finale, they would already be household names and that is the success of this show"
VOPCC Season 9 aims to bring to the fore the best of little singing voices from Punjab, reiterating its focus on culturally sound entertainment, inclusion and meaningful content across the state and beyond. The progress of the contestants through the entire competition will be dependent on their performance in different rounds and the score from the judges for their performances.
The show will be spread across various rounds, the kids will be shortlisted from different cities of Punjab through city auditions, shortlisted contestants will then be battling out for the TOP 24 slots in Mega Finale, to proceed to the studio Rounds.
One could also catch a glimpse of the highly anticipated show on PTC Play app as well as follow our Social Media handles for the interesting behind the scenes and fun videos.