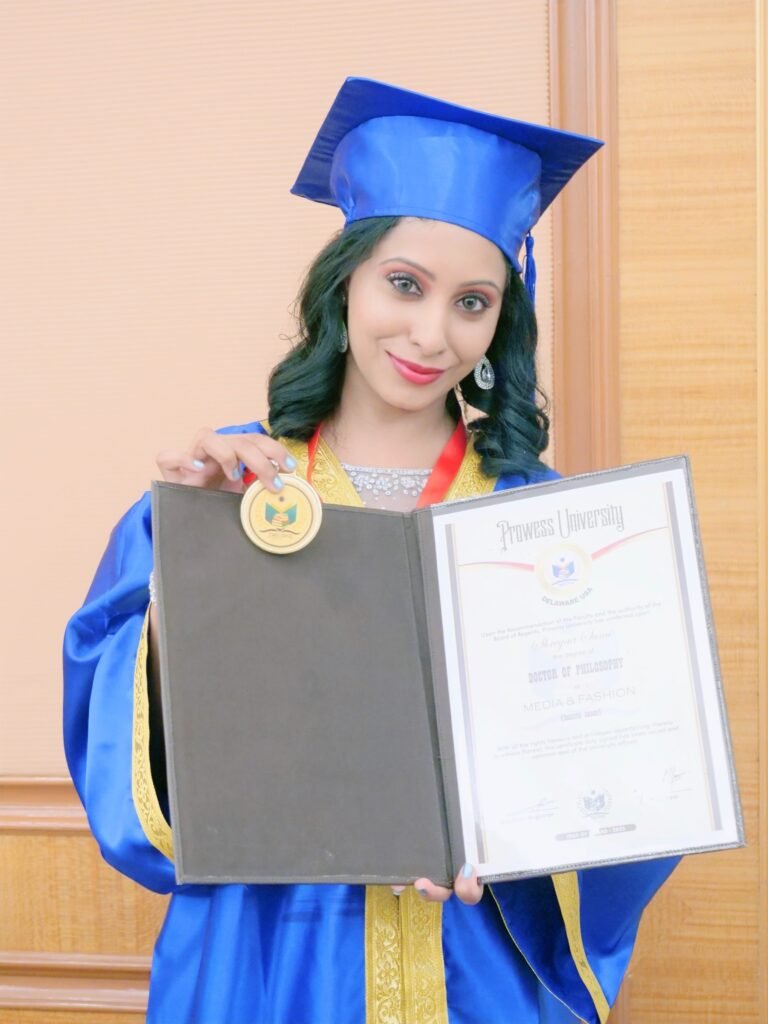 Everyone's beloved fashionista Shreyaa Sumi who is recognized Internationally, has very recently earned a Ph.D, Doctorate of Philosophy.
Shreyaa Sumi is bestowed with the Honorary Doctorate in Media and Fashion from the Prowess University, USA. On 30th April , this prestigious Convocation and certification took place at Juhu, Mumbai, India. At present, she is being recognized for her great work. An area where Shreyaa Sumi's interest has been keen since her earlier days in media. She has developed a unique personality with this interest and has gained much knowledge from her experience in the field of fashion ,arts & entertainment. Her hard work and dedication have paid off with this highest achievement of laurel. Shreyaa Sumi is now known as (Doctor) Dr. Shreyaa Sumi and she has been felicitated with a Doctorate by some of the most notable members in the committee.

The prominent Chief Guests including Senior leaders from BJP , Vice chancellors , Principle Directors, Academic advisors, Income tax commissioner were all gathered to grace the occasion and congratulated Dr.Shreyaa Sumi on her wondrous achievement. This makes her one of the famous personalities that has honorary doctorates prefixed to their name. The leap in league from a multi – international award winning Model and International Celebrity Ambassador will be the turning point in her career. Dr. Shreyaa Sumi, who is also an international influencer, an actress and has been a beauty pageant winner at different levels is also an Indian-American of Indian Origin who is currently settled in California, USA. There she continues to do modelling in the USA fashion industry which has made her collaborate with many eminent brands. This year along with the Ph.D, Dr. Shreyaa Sumi has also won the International Influencer of year award , International Women Icon award ,Gandhi Mandela International award and Global Icon Influencer award among many others.
The Honourable Doctorate was achieved by Dr. Shreyaa Sumi for her exceptional achievements and her excellency in Modelling, Media and Fashion likewise. The experience which spans over a decade in the art and entertainment industry has assisted Dr.Shreyaa Sumi with leading the way to a Ph.D degree. She wishes to bring more accolades by being a positive role model and by succeeding as an inspiring personality on the world platform. On the work front Dr.Shreyaa Sumi now has a line up of work in front of her and alongside she also encourages people all over the world to find their own unique version of success by paving their own path. Dreams do come true if you have the courage to pursue them. Go Confidently in the direction of your dreams and live the life you imagined for yourself. Accomplishing this huge and respectful Honour allows her to make a significant impact on the global forum. Also she has a huge fan following on social media. She now accepts invitation to be the Celebrity Jury & special Guest for events. She can be contacted for movie projects or brand collaborations through her website www.shreyaasumi.com