"At digiDZN, we are assisting businesses to ever explore the power of Internet & contemporary online mediums into a profitable distribution"
Digital marketing has evolved with time. And the internet has expanded considerably too. For better career opportunities, professional growth and business expansion, Digital marketing is beneficial. It's a Win-Win situation for both the business owners who simply want to promote their business& the new-age consumers looking for more than just products!
Social media provides immense potential for businesses because consumers habitually log on to it daily and spend hours on different channels. Social platforms help you connect with your customers, increase awareness about your brand, and boost your leads and sales immensely.
Founder – Sangeeta Verma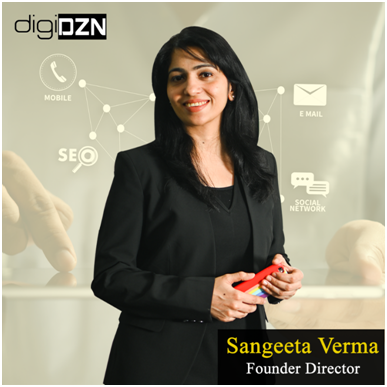 She started her journey with her husband Manish Verma when they launched an online fintech platform. Understanding the market and bridging the gap, she came up with this idea back in 2014 to establish her own digital marketing agency digiDZN. Initially, she sought help from her friends, worked from home, content strategy or designing, she did all. Later on, she increased the workforce and undertook numerous clients in India and overseas because of the quality and process that she & her team dedicatedly followed.
About digiDZN
Their vision statement is clear – "To assist businesses ever explore the power of the internet & convert contemporary online mediums into a profitable distribution channel working in sync with offline marketing efforts."
Sums up well how they are assisting businesses to grow through their process-driven approach which includes a high level of engagement with the clients to understand their business and providing curating the right set of digital outreach plans that best serve their goals!
Today, they are setting benchmarks in the Digital Marketing Industry with successful growth hacking campaigns aligned with the brand's marketing strategies.
When you do good work success follows and this is how digiDZN grew steadily with multiple references from their existing client base to an agency catering to over 100+ clients simultaneously!
FMCG, Real Estate, Corporates, Health & Fitness, Edtech, Clothing, Fintech, Luxury Beauty – You name it and they have a gem in almost every niche possible.